Chapter One, Page Five
This Page is Best Experienced with the Track: Toad Town by MasterKillua
Lucy quickly dashed behind Ross and pinned his arm behind his back "I said let him go." She said again, her pupils… irises… glew white, with a halo appearing over her head.
Ross repeatedly yelled that he was sorry and let Nick go, where Lucy let go of his arm. She walked away with Nick and blew a raspberry in Hatz's direction. Ross was left basically pouting on the floor.
When the duo arrived at the friend's yard, Nick was almost immediately tackled by a… mackerel, that was a "dog"? That's what it acted like.
Nick pet the thing, chuckling, "I miss you too buddy!" He said. A girl, who was a humanoid apple pie, came running over, picking up the mackerel, "Mackie! I thought I made it clear to not go outside without telling me! … Oh! Hi Nick!" She then said. This was the friend Nicholas was talking about.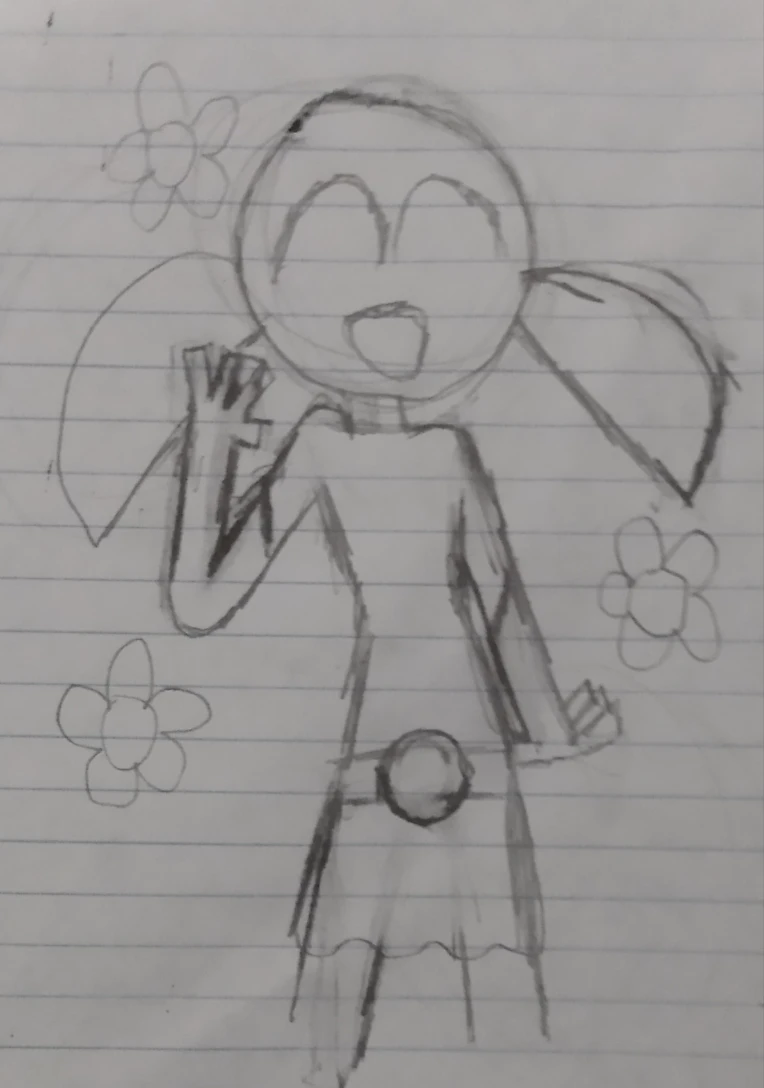 "Hey PomPom…" Nick replied, getting up. "Did you see the meteor thing that crashed down a couple of minutes ago?" PomPom shook her head "I was playing with Mackie!" She explained. "Eh, you'll probably see it on the news, anyway! This is the girl that came out of the meteor/pod that came down! Her name is Lucy!" He said enthusiastically. "Hello, it's nice to meet you!" Lucy said.
"You too!" PomPom replied. "So, can she stay at your house until we get something worked out… you know how my ma gets around these types of patterns…" Nick asked. "Why sure!" PomPom answered "I'm sure my parents'll say yes!" After that conversation, the three played outside for a couple of hours.
"Alright, It's getting late… I have to go, bye PomPom!" Nick yelled. PomPom also said goodbye before seeing Lucy staring at something in the forest. "Whatcha looking at?" PomPom asked. "Ah, um… excuse me for a second…" Lucy said, running off into the forest. Pomona shrugged it off and went inside to talk to her parents about Lucy staying there.
Lucy encountered something strange there… it looked like a weird face on a tree. It was made out of blood, she reached out to touch it…
Back at PomPom's place. A bloodcurdling scream was heard in the forest
Next -
Previous - https://gamequeen420.newgrounds.com/news/post/1221031